Back
Discover the Best Yachting Destinations
Sep 17, 2021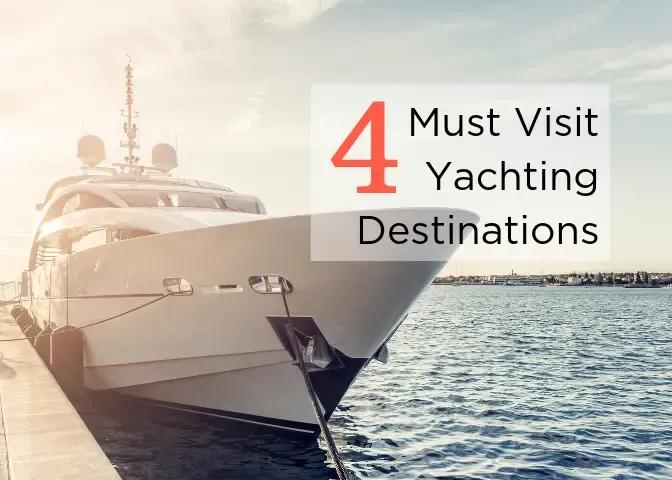 While there are many great places to yacht around the world, there are a few that top the best list. Here are a few of the best places to yacht around the world.
Monaco
Monaco is the crown jewel of the French Riviera. It is well-known for its luxury, glamour and upscale social scene. Throughout the year, Monaco is loaded with a great selection of superyachts. Year round, Monaco is home to prestigious yachting and lux events, such as the Monaco Boat Show. Since Monaco is the perfect coastal location in the West Mediterranean, you can yacht to other destinations along the French Riviera like Antibes, Cannes, St. Tropez and Nice. You can even yacht to the Italian Riviera. Rent a yacht Monaco like the Athena or the Aquarius.
The Athena is a superyacht classically designed with a three-mastered gaff. This superyacht is equipped with the modern amenities of true lux. Its interior can sleep up to 10 guests and can hold 19 crew onboard. Its impressive design is ideal for entertaining family and friends. The Aquarius can sleep up to 12 guests and amenities include a swimming platform, beauty salon, deck Jacuzzi, swimming pool, helipad, and massage room.
Miami
Yachting in Miami in an ideal cruising ground for any traveler. Miami has an iconic skyline and offers exceptional views along with burnt orange sunsets. Yacht to Biscayne Bay, the Intracoastal or the Atlantic Ocean. Spot playful dolphins and manatees and have fun using the water sports equipment aboard a yacht. Yachting in Miami is ideal for both extended vacations and day charters. If you book a charter yacht for an extended period, you'll get to hit the downtown area of Miami and enjoy the charms of the city.
Fiji
Experience Fiji in the Southwest Pacific while yachting. There are coconut plantations, tropical rainforests, beautiful beaches, and underwater adventures. If romantic sandy beaches are your thing, be sure to get to the Mamanuca Islands. Fiji has some of the most biodiverse waters on the planet. Go scuba diving or snorkeling to see reef sharks, dolphins, and manta rays. Dock and you can explore remote villages in the jungles along with ancient volcanoes. The idyllic South Pacific archipelago of Fiji serves up a diverse yacht itinerary with its fusion of tropical surroundings, cultures, and cuisines.
Sardinia, Italy
Sardinia's Emerald Coast is a playground for yachters. Its luxury marinas and stunning scenery draw yachters from all over the world. Enjoy the views of the marine grottoes of Cala Gonone and Capo Testa. While in Sardinia, walk the streets of the Cagliari Castello quarter where the alleys are flanked by thick walls. Don't miss out on Alghero. It's one of Sardinia's hidden gems with a strong Catalonian influence. Its old town center features a network of narrow streets with quaint shops that remind one of a Gothic quarter.
To reach any of these beautiful destinations for yachting, contact XO for your initial travel needs at +1 888 843-9006 to book a charter or purchase seats on private flights. You can also download the app or book flights online in minutes. Already a XO Member? Contact our 24/7 concierge to assist you in reserving a yacht charter in the area.
XO may offer a number of programs, including whole aircraft charter, for which XO will act solely as your agent in arranging the flight, and Public Charters, for which XO will act as principal in buying and reselling the air transportation. XO does not own or operate any aircraft. All flights are performed by FAA-licensed and DOT-registered air carriers.