Back
The 411 On Flying Private
Sep 17, 2021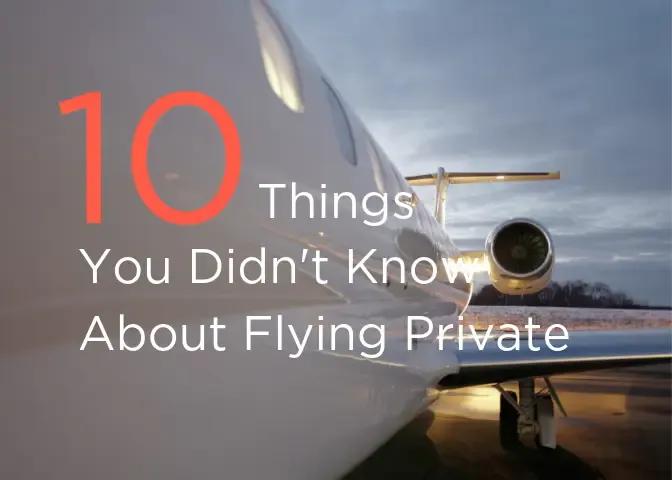 Obviously, you know that there are tremendous benefits to flying on a private jet over a commercial flight -- not the least of which is avoiding all of the typical airport hassles. You also probably know that private jets are the most luxurious way to fly, even more so than first class!
However, we bet there are several other things you may not know about private aviation; here are 10 of them.
1. Flying private is the fastest way to travel – Point-to-point, there is no faster way to fly than by private jet. Not only are private jets just as fast, but because you spend so much less time on the ground dealing with airport delays, and you can usually get closer to your final destination by flying into a regional airport, the entire trip is always shorter on a private flight.
2. You can show up only 15 -20 minutes before your flight – This is probably the best-loved perk of flying privately; you can show up at little as 15 to 20 minutes before your scheduled departure time and sometimes may be able to drive right up to the jet!
3. Flights do need to be arranged in advance – Even though you can arrive ready to jet about 15 to 20 minutes before your flight and then be quickly on your way, that is because your pilot would have already gone through all the necessary pre-flight arrangements and checks. There is a popular myth, created by Hollywood movies, that a private plane can be "wheels up in 10 minutes" As cool as it sounds in the movies when the hero (or villain!) shouts -  "get the plane ready, we'll be there in ten minutes" that's not quite how it works in real life. The reality is that short notice normally means a few days or hours. Less preparation time than an hour is very rare. However, the good news is you can use the XO mobile app, to instantly BOOK a private jet charter!
4. Say bye-bye to TSA – You do not have to worry about long security lines or embarrassing patdowns when you are flying on a private jet. On domestic flights, what you can bring on board has very few restrictions. You can take as many liquids and toiletries as you desire, but check with your operator on restrictions for firearms and hazardous materials.
5. You are in complete control – When arranging and booking an entire private jet charter, you are in complete control of setting the departure time, destination, and maybe even the flight route if there is a particular view you want to see out the window!
6. You do not have to own the jet – Not too long ago, the only way to fly on a private jet was to own one yourself. That has all changed. There are now several ways to fly on a private jet, from whole flight charters to booking a single seat on a shared flight – and you can explore them all on the XO mobile app.
7. More airports, more options – There is a common misconception that destinations are limited on a private jet. Not True! Since private jets can leverage FBOs and smaller executive or regional airports, they can fly in and out of literally thousands more airports than commercial flights.
8. Relax or be productive – Of course, you can stretch out, relax, or sleep more comfortably on a private jet, but if you are traveling for business, you can also be more productive. Have a business meeting or use your phone or other mobile devices during the flight. There are not as many restrictions on mobile devices as there are on commercial flights.
9. You can fly non-stop – True, private jets are smaller than commercial aircraft because they seat fewer passengers, but that does not mean they have a limited range. Some private jets cannot fly long distances without stopping to refuel, but there are private jets that can fly as far as 4,000-5,000 miles non-stop.
10. More accessible than you think – With the XO mobile app, flying on a private plane is more accessible than ever.
The More You Know About Private Aviation, the More You Will Love XO
Now that you know a little bit more about the realities of flying privately, here is one more secret you need to know – XO is changing everything that even the most experienced traveler thinks they know about booking and flying on a private jet.
We are creating a better way to fly private, one that provides the private flyer with guaranteed availability of flights at market-friendly prices that are often less than any other way to book or fly privately, such as Private Charter or fractional jet ownership.
Over the past few years, many apps and business models have claimed to be the "Uber of private aviation," but only XO has come anywhere close to Uber's successful business model. Our on-demand solution has completely digitized the private aviation experience and provides guaranteed availability on anything from a full private charter to a single shared seat on an existing flight, all at competitive, market-favorable prices.
It is truly a revolution in private aviation.
If you would like more information about this post or any of our programs, please feel free to contact our team at +1-888-80-FLY-XO.
XO may offer a number of programs, including whole aircraft charter, for which XO will act solely as your agent in arranging the flight, and Public Charters, for which XO will act as principal in buying and reselling the air transportation. XO does not own or operate any aircraft. All flights are performed by FAA-licensed and DOT-registered air carriers.