Back
XO Pilot Spotlight Series Launch
Sep 17, 2021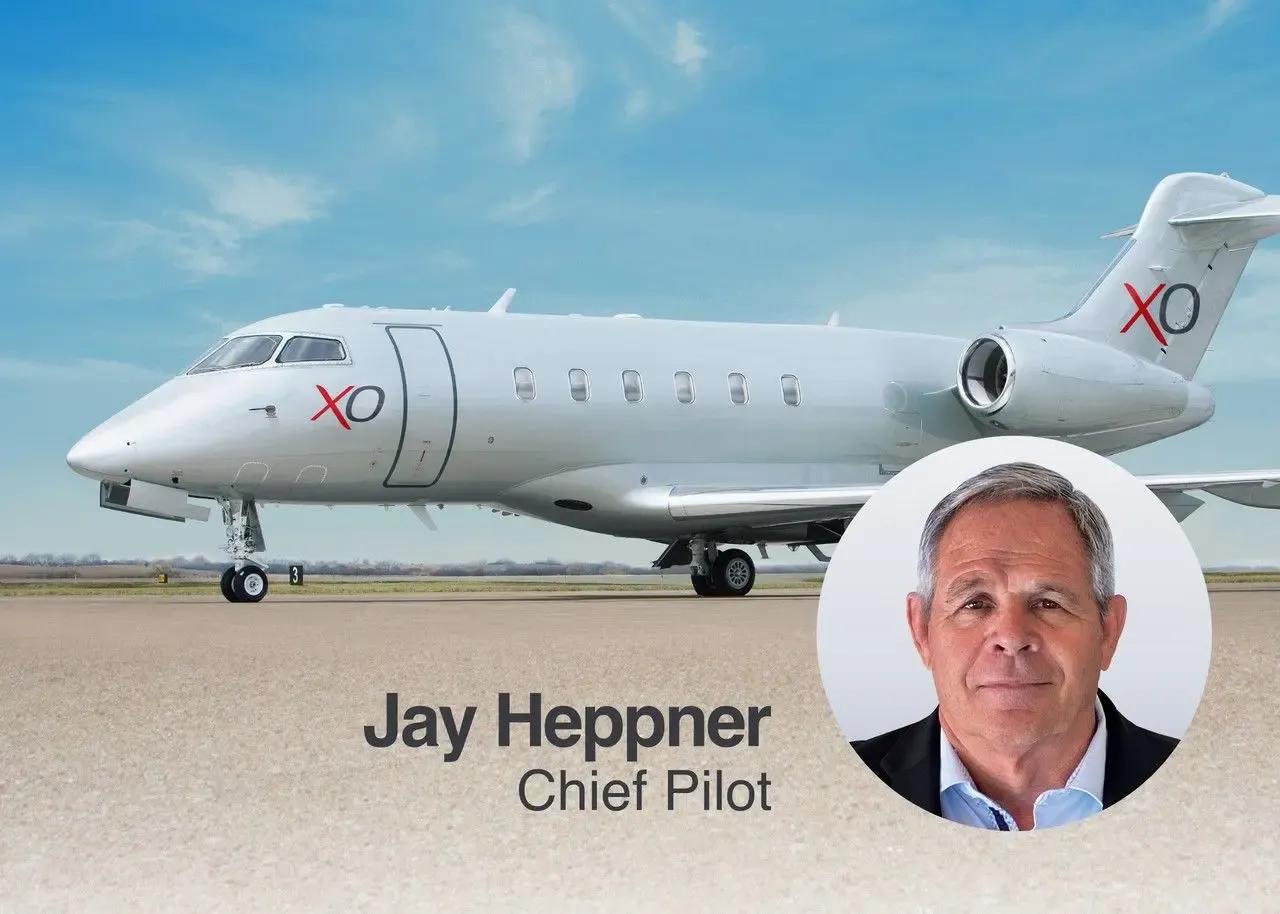 What makes XO and parent company Vista such a unique experience for our flyers (beyond our seamless technology and extraordinary fleet) are the pilots. Beyond their technological aptitude, they have a deep love of travel and flying, profoundly enjoy the social interactions with our travelers, and have the ability to create warm and engaging environments on the ground and in the air.
With all that in mind, we thought it was high time that you got to know them better, so we sat down with some of our pilots for a series of conversations. Starting it all off is Jay Heppner, the Chief Pilot.
XO: Jay, your background is just extraordinary. Did I read it right, six years flying for the Air Force, 33 years for United?
Jay: Yep, and I was on their Board of Directors as well.
XO: Talk for a moment about technology.
Jay: It's critical. In-app booking is the future. Our younger consumers love that they can answer TSA and CDC questions right on their phones. Technology also helps us reduce deadheads, which in turn reduces our carbon footprint and emissions. Everything we can do there is critical.
XO: You have a personal connection with technology, don't you?
Jay: You did your research for sure! My final paper at the Air Force Academy was a program that scheduled United flights, recognizing passenger load and other variables. It was a long time ago and was very complex. The processing power makes that easier now, and XO is all over it.
XO: What inspired you to get back in the cockpit?
Jay: I'm not done. I love flying - I've done everything from jets to helicopters to props. I also love to be engaged with everything; I do the flight planning, load the baggage, even clean the aircraft. There are no delegated duties; it's a team effort—a family atmosphere.
XO: And you've made a ton of friends, right?
Jay: Absolutely. In just two years, I've made more friends than I did over all my years with United. You know their names, their kids' birthdays, their dogs' names. I love that part. 
XO: I bet you get to see more of the country, too.
Jay: Even when you fly a 737, you're still going to good-sized cities. With XO, I get to see more of the country and absorb the local charm; that's very different from landing at LaGuardia. I like to explore, to go for a hike or a run outside the city.
XO: What was it like during COVID?
Jay: I became Chief Pilot in March when everything changed. We immediately instituted protocols to protect our clients and associates—gloves, masks, the use of a 30-day sanitizer, and others every ten and fourteen days.
XO: Were there changes in who was flying in those days?
Jay: It was businesspeople, athletes, entertainers, and families who felt safer traveling amongst themselves. Lots of people and pets going to secluded locations to hunker down. I remember people taking bags of groceries and food from their refrigerators. They knew they weren't going to be home for a while.
XO: How did that feel?
Jay: It was bittersweet to see that; I was glad to provide a service to get people where they needed to be, but understood what the pandemic was going to do.
XO: How have things changed from the pre-pandemic world? 
Jay: People discovered us – the word got out, so we are seeing a lot more groups of people. More couples and family. I'm still seeing a team of attorneys going to court or athletes doing ESPN. But also a lot of golf clubs, and combined business trips and vacations.
XO: What about the future?
Jay: As people work from home more, having the ability to go to smaller airports closer to their residences is a huge convenience. That's an opportunity for XO, which is just one reason we are buying more planes and growing our company. People need to be with people. Nothing beats a handshake and a hug. I am very optimistic.  
To learn more about this post, our Membership Programs, or some of our top flight routes such as Los Angeles to New York, New York to Aspen, or Boston to New York, please feel free to contact our team:
Schedule A Call With Our US Team
Schedule A Call With Our EU Team
Schedule A Call With Our MENA Team
XO Global LLC is not a direct air carrier and does not operate any aircraft. All flights will be operated by properly licensed US or foreign air carriers. Membership is subject to the terms of the applicable Access Membership Agreement.