Back
Top Ten Travel Tips From Aviation Pros
Sep 17, 2021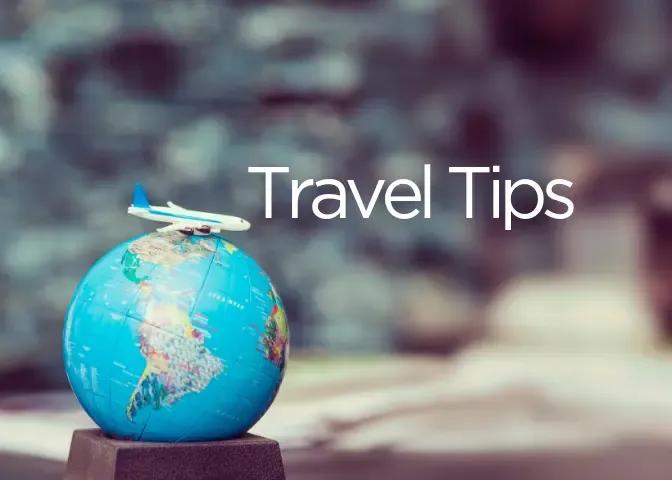 Traveling can be fun and exciting, but let's face it, it can also be filled with hassles especially if you are flying commercial to get from here to there.
There is a group of folks that log more hours between airports than even the most seasoned travelers – aviation professionals! The Business Insider recently asked nearly 100 airline and airport employees for the best travel hacks, her are 10 of their top tips!
1. The Best Way to Get Help if You Have a Problem
Airline pros, particular gate agents say, if you have a problem, the best way to get help and get it resolved is to just be nice. "If something goes wrong, approach with a kind and humble attitude, and the agent will bend over backward to help you. This advice is worth its weight in gold," said a retired airline customer service agent with 30 years of experience.
2. How to Avoid Flight Delays
A gate agent with years of experience said, "As a general rule, the later in the day you travel, the more likely you are to hit a delay."
3. Do Not Miss Out On Possible Upgrades
Most airlines do offer reduced-price upgrades the day of the flight - there's sometimes even first-class flights available. So be in the boarding area good and early during boarding, because this is when you'll hear the announcements for last-minute upgrade purchases you might be able to get," said a flight attendant with three years of experience. Another flight attendant added that you should make sure you do not miss out on any upgrades you may have earned through your frequent flyer program or credit cards miles. Always check with your carrier for any available upgrades you may have.
4. Some Packing Tips
In order to conserve space in your suitcase, one former flight attendant says, "My favorite travel hack is definitely the clothes-roll technique. I am often gone from home for several days, even up to three weeks, and I save space by rolling my clothes instead of folding them."
Another pack hack? "Before your trip, call your hotel and check to see if they have a washer/dryer available. If so, bring a couple detergent packs and dryer sheets in a Ziploc bag, and it eliminates two to four days' worth of clothes, depending on your stay," says another experienced flight attendant.
5. How to Get Your Checked Bags First
A long-time airport ramp and gate agent says, "Your best option is to be one of the last passengers to check your bags. Bags will always be loaded front to back on the bag carts. So, if you check in last, your bags will be in the last bag cart, which will make them the last on the aircraft and the first off the aircraft at your destination. If they are the first off the aircraft, they will most likely be the first on the bag carts, and then the first to be unloaded at baggage claim.
6. How to Get Better Service From the Flight Attendants
Several flight attendants say that if you want the best service, sit towards the rear of the plane, "The reason is simple" said one, "We like to avoid responding to call bells from the front of the plane because answering one means potentially flaunting whatever item the passenger has requested to everyone else along the way. This can cause a problem since planes often don't have enough extra vodka, pillows, earplugs, etc. For passengers sitting near the back of the plane, however, it's much easier to slip in that second mini bottle of wine."
7. How Get Better Sleep in Your Hotel Room
Sometimes with time differences, jet lag, and all, you may arrive exhausted and need some shut-eye, and it could still be daylight – or maybe, you just want to sleep in. Here is a tip from a flight attendant with 15 years of experience, "Use the clips on the pants hangers in the hotel room to clip your curtains together so there is no light coming through."
8. If You Have the Time, Volunteer
Most flights are oversold, and you will almost always hear the airline request for volunteers to take a later flight. If you have the time to take the later flight, or even one the next day, volunteering to give up your seat could be a great way to extend your vacation an extra day, with the airline picking up the tab! They will give you compensation in a flight voucher for giving up your seat, if the next available flight is the next day they will provide you with a meal and hotel voucher, and they may even upgrade to first class on the next available flight!
9. Tricks to Avoid Jet Leg
To try to avoid jet lag, one long-time flight attendant says, "What helps me sleep is having a bedtime ritual. Stop using electronics one hour before bedtime, have a cup of tea, and read a bit. Usually that does the trick, but if I can't sleep after an hour I just get up, do something else, and then try again."
10. How to Clear Customs Quicker
Several airline pros said that if you want to whisk through customs, apply for, and obtain "Global Entry." Global Entry is a U.S. Customs and Border Protection program that allows expedited clearance for pre-approved, low-risk travelers upon arrival in the United States. The travel pros all see it is well-worth the time and costs involved to obtain the certification.
One More Bonus Tip  
Here is another travel tip. Why not avoid almost all of the hassles of flying commercial, and fly private?
Did you know you can access a private jet just about anywhere in the world, instantly and at competitive rates by using the all new XO, app?
The launch of XO marks the beginning of a new world for all private aviation customers, with the new brand providing elevated services for on-demand private jet travel.
With our three new ways to fly, and three unique membership classes, XO puts the world at your fingertips.
If you would like more information about this post, or any of our programs, please feel free to contact our team at +1-888-80-FLY-XO or schedule a call.
XO is a foreign air charter broker. It is not a direct air carrier and does not operate any aircraft. All flights will be operated by properly licensed air carriers or foreign air carriers. All services are subject to the terms and conditions available at flyxo.com/legal. Fla. Seller of Travel Ref. No. ST42114