Back
Top Romantic Destinations to Reach by Private Jet
Sep 17, 2021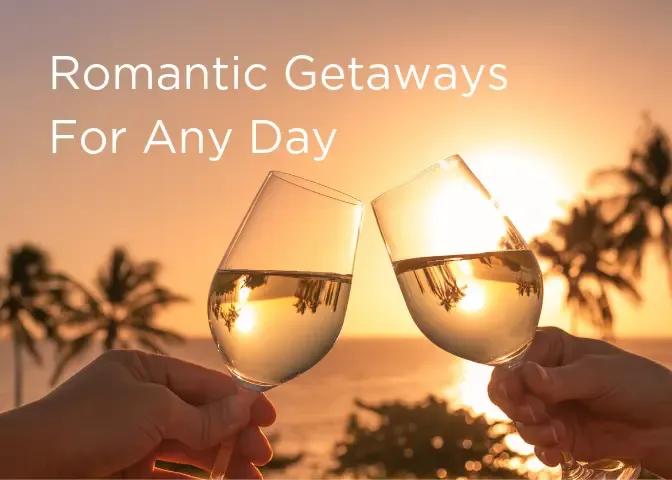 Valentine's Day may have already come,  but that doesn't mean that romance isn't literally still in the air! If you need to make up for just giving your significant other a box of chocolates and some roses, here, in no particular order, is our list of the top 7 romantic destinations to reach by private jet!
1. Napa Valley, California – Known for wine, of course, but Napa Valley is so much more when it comes to a romantic getaway for two! Napa is also renowned for world-class dining, hotels, and spas. Whether you and your paramour are looking for a day trip or an extended weekend, visitors may enjoy private hot-air balloon excursions, local wine tastings, and exquisite dinners amidst an idyllic Northern California backdrop.
2. New York City – Nothing says "I love you" like a great big juicy bite of the Big Apple. Often forgotten as a romantic destination because of its reputation as a world financial mecca, NYC is home to Broadway, unparalleled extravagance, and luxury in fine dining, five-star hotels, and events. When you fly private, you can avoid the hassles of flying into JFK or La Guardia and touch down at one of the small regional airports out of the city.
3. Paris, France– Is there any city on the planet more synonymous with love than the "City of Lights?" Rick and Ilsa will always have Paris, and so can you and your lover as you stroll hand-in-hand along the Seine while visiting museums and shopping along Rue Saint-Honore.
4. Jackson Hole, Wyoming– A favorite among many private jet travelers, especially for a winter getaway, Jackson Hole is a cozy retreat for skiers and those that just enjoy a cozy drink by the fire. Snuggle in front of the fireplace, enjoy an afternoon on the slopes, or just take in the breathtaking views of the local area while enjoying a bite at a beautiful mountainside restaurant.
5. Maui, Hawaii – Romantic and exotic,  Hawaii offers the ideal mix of relaxation, adventure, and love. Private jet guests receive a welcoming invitation to discover harmony and balance when visiting the Island of Maui. For a weekend or longer, the Montage Kapalua Bay and Grand Wailea are the perfect places to rejuvenate and refresh with your special someone.
6. Lisbon, Portugal– Lisbon may not be high on your radar when you think of romantic destinations. However, Lisbon deserves a spot on this list for its flavor, feel, and flair, especially when traveling with your better half. For those looking to just disappear for a while, the exclusive beach scene of Comporta -just an hour south of Lisbon - offers an amazing place to disconnect and slip "off-grid."
7. Peninsula Papagayo, Costa Rica – Costa Rica has a lot to offer any traveler, but for upscale romance, there is nothing like a trip to the Four Seasons Resort Costa Rica on the Papagayo Peninsula. The Four Seasons is the only Forbes Five-Star Luxury Resort in Central and South America, and this tropical destination will be an unforgettable break from winter in paradise.
A Little Love From XO
Now that you know where to go for your romantic getaway, you can love how you get there with XO.
XO is changing everything that even the most experienced traveler thinks they know about booking and flying on a private jet.
We are creating a better way to fly private, one that provides the private flyer with guaranteed availability of flights at market-friendly prices that are often less than any other way to book or fly privately, such as private charter or fractional jet ownership. 
Over the past few years, many apps and business models have claimed to be the "Uber of private aviation," but only XO has come anywhere close to Uber's successful business model. Our on-demand solution has completely digitized the private aviation experience and provides guaranteed availability on anything from a full private charter to a single shared seat on an existing flight, all at competitive, market-favorable prices.
It is truly a revolution in private aviation.
If you would like more information about this post or any of our programs, please feel free to contact our team at 954-315-0059 
XO may offer a number of programs, including whole aircraft charter, for which XO will act solely as your agent in arranging the flight, and Public Charters, for which XO will act as principal in buying and reselling the air transportation. XO does not own or operate any aircraft. All flights are performed by FAA-licensed and DOT-registered air carriers.