Back
What Are the Top 7 Most Popular Private Jet Destinations?
Sep 17, 2021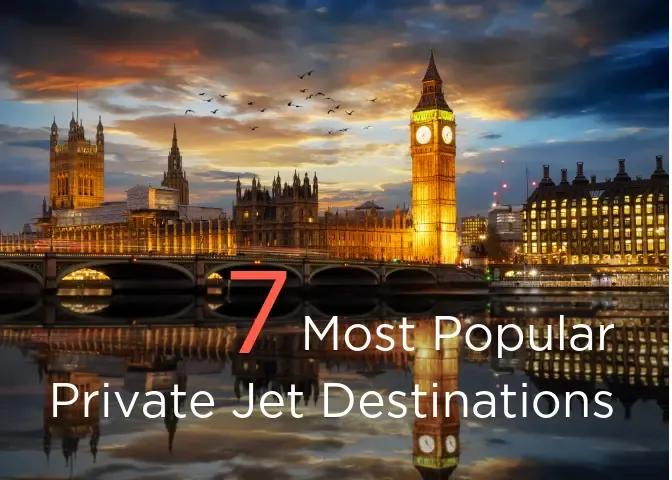 Private air travel is becoming more popular than ever. In fact, according to a recent report created by Aviation International News, there was a 10% increase in private jet charters in the one-year period between 2016 and 2017, and those numbers are continuing to increase.
If you have been reading our blogs, then you probably now know a lot more about how and why to fly privately -- now you probably would like to know more about where to go.
Flying anywhere on a private jet is a wonderful experience and avoids all of the many hassles that come with flying commercially. Still, for business or for pleasure, there are certain destinations that are favorites of those who spend a lot of time flying privately.
Here in no particular order, is our list of the 7 most popular destinations to reach by private jet. What all of these places have in common, is that they are heavily traveled destinations such as Washington DC, or London, and getting there by private jet is that much easier, or they are places that could be difficult, or almost impossible to reach by commercial air travel.
1. Washington, DC – According to industry insiders the New York to Washington flight path is the most popular private jet route in the USA overall -- with 5,106 private flights embarking on this route over the course of 2017.
2. Norman's Cay, The Bahamas – There are many places in the Caribbean that are great to reach by private jet, but Norman's Cay is the only one that is only accessible via private jet. Once the headquarters of the Medellin Cartel, the famous drug smugglers from Colombia, today it is home to a super exclusive resort being developed by the Four Seasons owners in Miami.
3. London, UK – London has always been a very popular destination to reach via private jet, and other flights to the UK are on the upswing. The British cities of Manchester and Birmingham have made it into several private aviation surveys of "top 10s" for the first time.
4. Faroe Islands – You may not be familiar with the Faroe Islands in the Arctic Circle, but if you want to get there, this is one of those places that is best gotten to only by private jet. The 18 major islands of the Faroe Islands in northern Europe offer over 800 miles of coastline and abundant dramatic landscapes, but they are barely accessible via commercial air travel. However, it's one of the best places on the planet to see the Northern Lights, and with a private jet you can fly directly into Varga Airport.
5. Los Angeles, California – Of course, as an epicenter of sports, entertainment, culture, and business, Los Angeles is a natural hub for private aviation aficionados.
6. Telluride, Colorado – Exclusive ski resorts go hand-in-hand with the private jet lifestyle. However, some of the most popular and prestigious resorts, like Telluride in Colorado, cannot be reached directly by commercial flights. The magic of flying private is that private jets can usually get you a lot closer to your ultimate destination. In the case of Telluride, the nearest major airport, Montrose Regional, is 90 minutes away by car, whereas private jet passengers can use the Telluride Regional Airport, just six miles from the resort.
7. Anguilla, Caribbean – Anguilla is another island paradise that is best reached by private jet. Anguilla, a favorite of Jimmy Buffet's, boasts crystal clear waters and picture-perfect beaches, and offers visitors a quieter alternative to the nearby buzz of St. Maarten. The island is serviced by Clayton J. Lloyd International Airport, which, with its 5,000-foot-long runway, is too small to accommodate mainland commercial flights. You can skip the ferry or commuter connection through St. Maarten or Puerto Rico by chartering a small-to-medium-size private jet and touch down just minutes from your beachfront resort.
Flying Private Just Got a Little Easier
Now that you know where you might want to go on your next private flight, use XO to get you there! XO is changing everything that even the most experienced traveler thinks they know about booking and flying on a private jet.
Trusted worldwide, XO revolutionizes access to private aviation through our unique membership programs, operational excellence, and cutting-edge technology. Everything we do – such as offering transparent pricing on the XO mobile app, an unparalleled level of service, and fully refundable membership deposits – sets us apart while providing you with an elevated private aviation experience. The XO Experience.
To learn more about this post, our Membership Programs, or some of our top flight routes such as New York to Dallas,New York to Bahamas, or New York to Washington DC, please feel free to contact our team:
Schedule A Call With Our US Team
Schedule A Call With Our EU Team
Schedule A Call With Our MENA Team
XO Global LLC is not a direct air carrier and does not operate any aircraft. All flights will be operated by properly licensed US or foreign air carriers. Membership is subject to the terms of the applicable Access Membership Agreement.