Back
How To Recreate 6 Hotels Most Iconic Sips & Bites From The Safety Of Your Home
Sep 17, 2021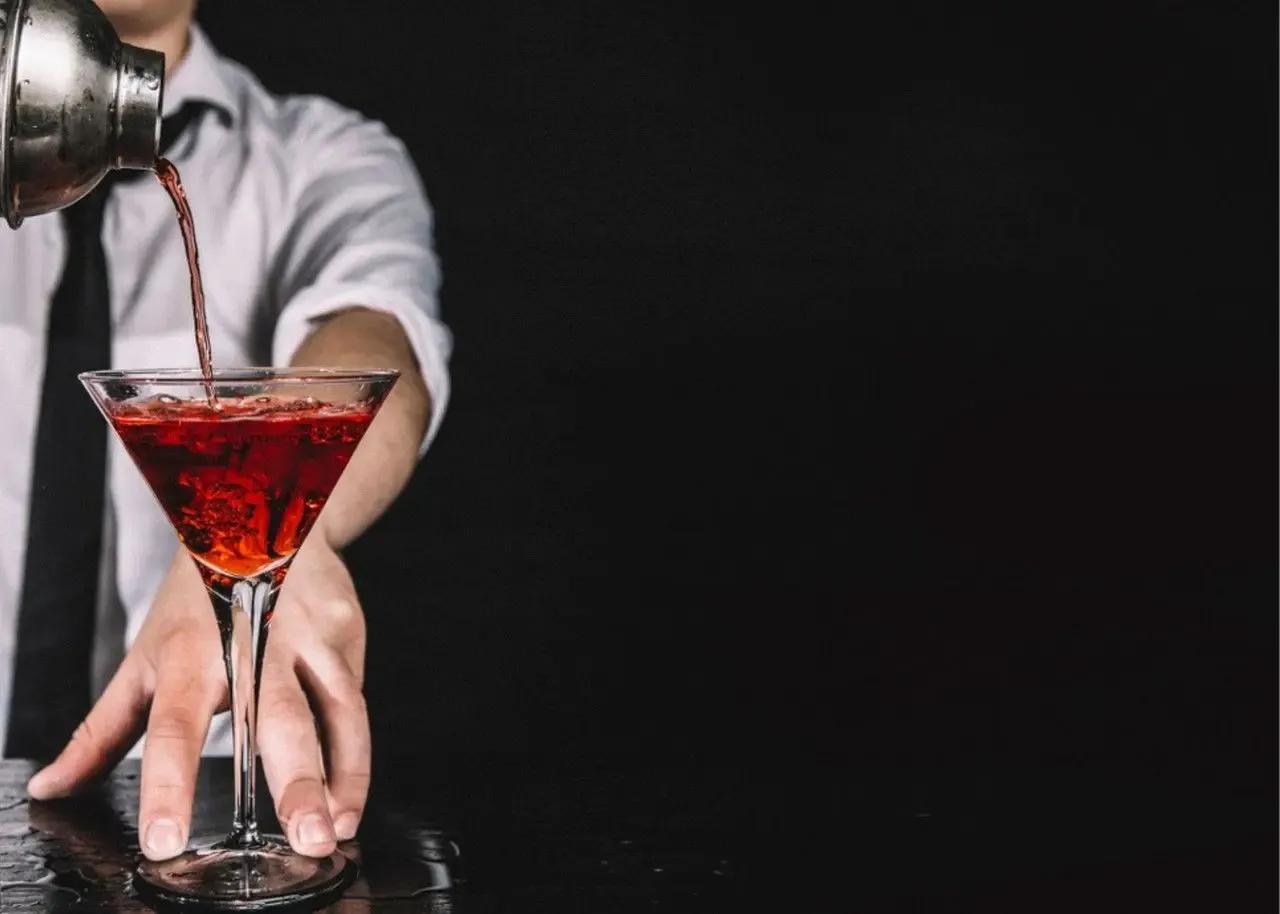 Imagine yourself sitting at a classic bar at one of the world's most renowned hotels, signature cocktail in hand…
Now imagine sitting in the opulent dining room of a legendary hotel restaurant…
Sorry for the tease, but we wouldn't torment you unless we had a temporary answer. Your trusty friends at XO have done our research and identified six famed cocktails and menu items that you can prepare, simply and easily - while you're sheltering at home. 
While the glorious settings are obviously missing, you conjure their vibe while enjoying these recipes that were conceived by masters in hospitality,  and rooted deeply in history.
So without further ado, here are six simple, satisfying experiences that we hope bring joy to your bar and kitchen.
The Knick's Martini
Knick, in case you're not hip to the shorthand, is short for Knickerbocker. 
If you could travel back to 1906, you would be the kind of person likely to swing by the Knickerbocker's sophisticated underground speakeasy, the knowledgeable could access from the Times Square subway platform (of all places!)
Once inside, we'd recommend asking bartender Martini di Arma di Taggia to surprise you with her specialty, just as John D. Rockefeller did that very same year. And like Rockefeller, you'd likely receive the prototypal martini, a citrusy cocktail formed with gin and vermouth—both dry and sweet.
Now ubiquitous, "The King of Cocktails" has been served in untold numbers and renditions with gin or vodka and either shaken or stirred. True to the original, you can find the recipe for "The Perfect Martini" from the Knick's head bartender, Karma Jamyang.
You'll see immediately that there's more vermouth than is typically used in a 2020-style martini,  We are drawn to this classic version, and the way that the sweet and dry vermouth are offset by the bitters.
See the recipe here.
The Savoy's Peach Melba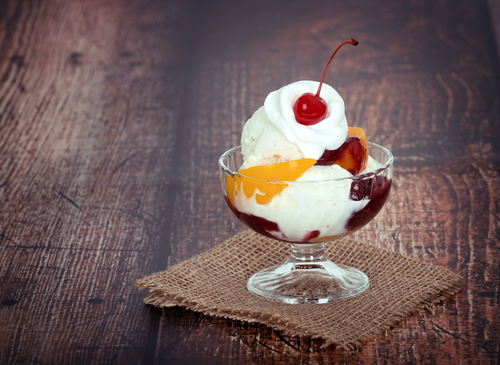 A five-star hospitality icon in London for the past 130 years, the sole luxury hotel on the River Thames is also responsible for one of the world's most indulgent desserts. The Savoy once employed legendary French chef Auguste Escoffier, who in the late 19th-century developed a special peach-driven dish to honor well-known Australian opera singer and hotel guest, Nellie Melba. He also named melba toast in her honor – quite the caloric contrast,
Evidently, the Peach Melba made an impression; within years, it graced dessert menus across the world.   To restaurants who wanted to improvise, Escoffier had a stern warning: "any variation on this recipe ruins the delicate balance of its taste." Well, fortunately for novice chefs, reproducing this sweet à la mode masterpiece the way Escoffier intended it doesn't demand his culinary pedigree.
See the recipe here.
The Monteleone's Vieux Carré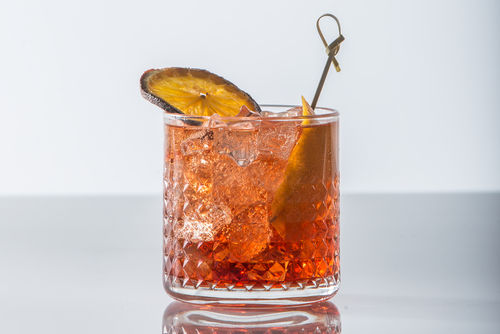 Long a mainstay for refined luxury in the French Quarter, The Monteleone has been a New Orleans institution since 1886. The hotel's bar – a  favorite haunt for world-famous drinkers like Ernest Hemingway -  was also the birthplace of the Vieux Carré cocktail.
It's a jazzy NOLA improvisation that reminds us a bit of a Manhattan.
Starting with equal parts rye whiskey, Cognac, and sweet vermouth, then embellished with bitters and Bénédictine, this slow-sipper is best poured over ice and fancified with a lemon twist garnish. Consult its abiding recipe to play mixologist at home. And while you're at it, here's a Spotify News Orleans playlist to complete the mood.
See the recipe here.
The Waldorf Salad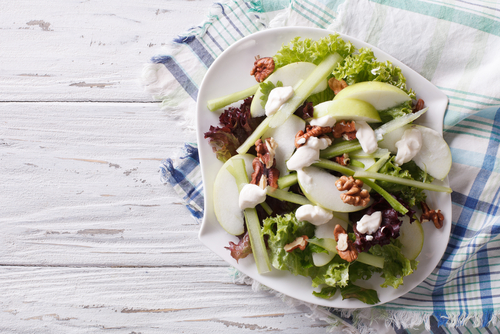 Yes—this is the Waldorf Salad—but before you say, "been there, done that," consider this retro dish's capacity to transport you back to simpler times when it is authentically prepared. Those times are most precisely 1896 - when Waldorf-Astoria's maître d'hôtel, "Oscar of the Waldorf," first served it to guests of a charity ball to wide acclaim.
The beauty of Oscar's timeless recipe is that apples, celery, mayonnaise, and lettuce are the only four ingredients required. Nothing hard-to-come-by during these times. But if you have them, there's no shame in also throwing in a quarter-cup of walnuts, as is common in later versions; we like to think that if Oscar new the latest research on how healthy walnuts are, he would have added them himself. 
See the recipe here.
Raffles' Singapore Sling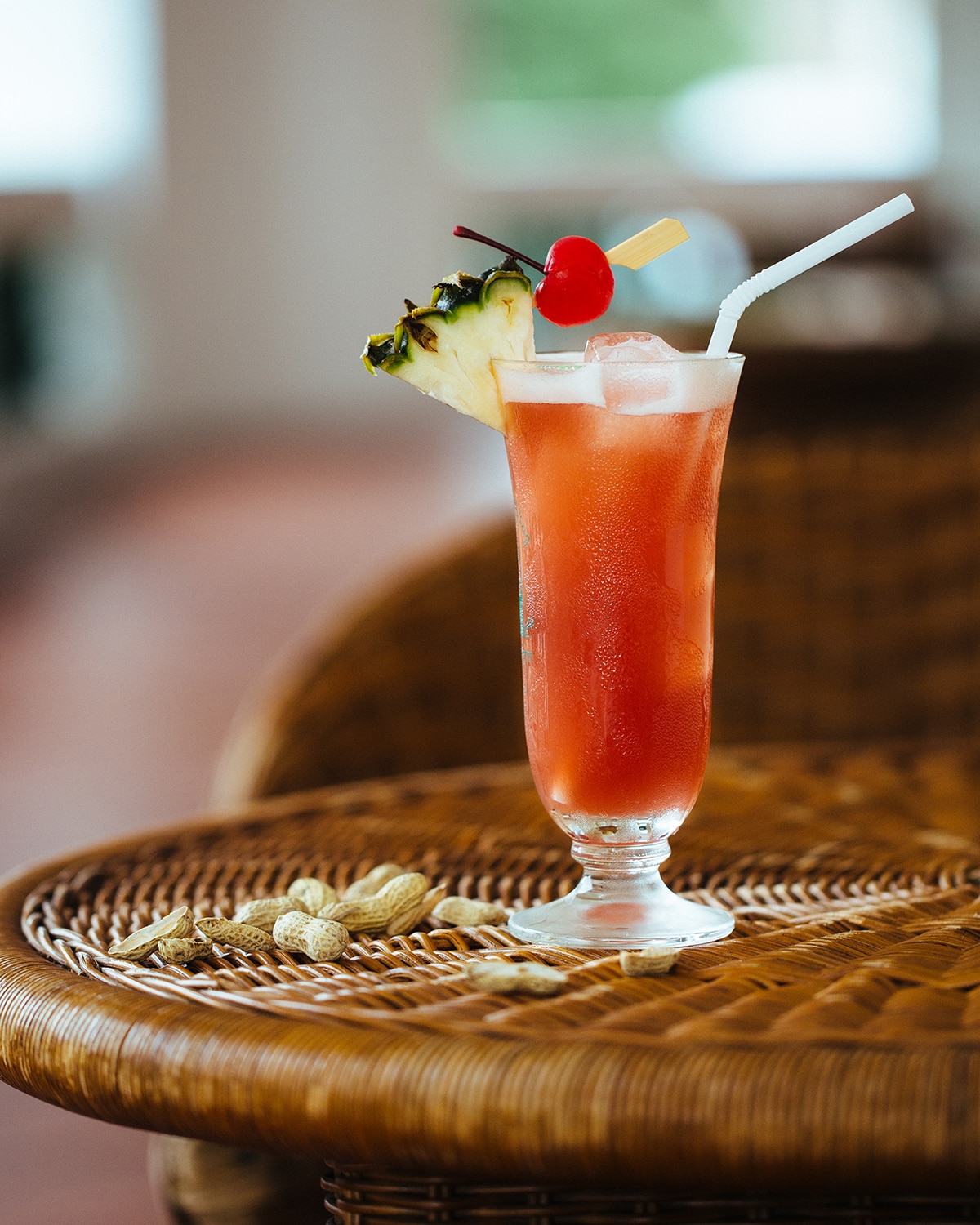 Since its origins back in 1887, Raffles Singapore has set the tone for regal stays in the Lion City. Around 1915, the hotel's famous Long Bar became a social hotspot in a British-colonial era – and was the custom in those unenlightened days, women were discouraged women from drinking in public. As a clever work-around, its bartender Ngiam Tong Boon crafted a gin- and Grand Marnier-infused cocktail cleverly disguised as fruit punch to help the ladies let loose on the down-low.
In the century since, The Singapore Sling has reached legendary status worldwide, becoming the to-go for gin lovers of all genders who fancy their cocktails fruity, complex, and semi-sweet. Of the many evolved twists on the Long Bar original, all seem to share its sip-ably smooth signature, and most are fashioned bright pink with a splash of grenadine.
In fact, there are so many recipes that have wandered far from the original, that it's hard to get an authentic version, as Wikipedia dryly notes – "Nowadays and internationally, unless you specify the era of the drink or your personal recipe, you have not much chance of getting anything you might recognize.[6]
Harkening back to Boon's classic pour, we invite you to transport yourself back to the Long Bar, with this short trip:
See the recipe here.
The Palmer House Hilton Brownie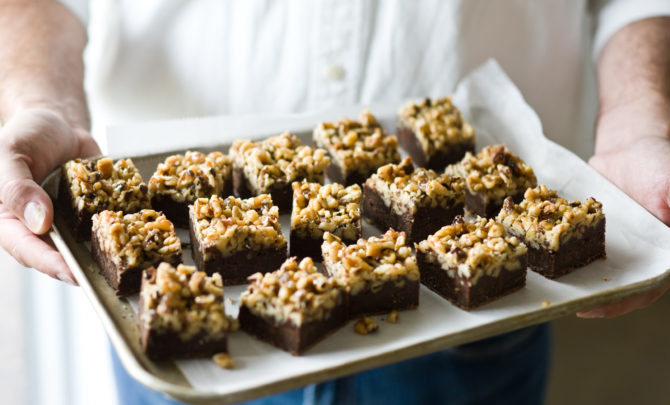 It must have been a moment of pure inspiration when Palmer House Kitchen's pastry chef when he dreamed up America's first brownie.  He concocted it for the 1893 Chicago's World Fair, and the exact same recipe is served in the same classic hotel today.
(The hotel has been re-branded the Palmer House Hilton, but no one would dare touch the recipe,)
We're sure you've had your share of brownies, as have we. But we think you'll agree that this mother-of-all-brownies is deservedly the hotel's most sought-after confection, featuring plenty of nuts and a frosty apricot glaze.
So take this opportunity to discover the brownie that launched a trillion calories; this 127-year-old OG is rich, indulgent, and so surprisingly simple that we'll bet you already have all the required ingredients on-hand. It's the perfect indulgence to cure another day of cabin fever.
See the recipe here.
When the time is right and the world opens up for vacation travel, you'll find that XO doesn't just bring recipes to you, it's the best way to experience them first-hand.
If you must fly during these unprecedented times, secure your membership today and gain access to private charters, shared charters and even "Fly-by-the-Seat" opportunities. We appreciate the confidence you place in us, and our teams are working 24/7 to assure that the skies remain safe for our community.
To learn more about this post, our Membership Programs, or some of our top flight routes such as Frankfurt to Milan, The Hamptons to San Francisco, or St Moritz to Paris, please feel free to contact our team:
Schedule A Call With Our US Team
Schedule A Call With Our EU Team
Schedule A Call With Our MENA Team
XO is a foreign air charter broker. It is not a direct air carrier and does not operate any aircraft. All flights will be operated by properly licensed air carriers or foreign air carriers. All services are subject to the terms and conditions available at flyxo.com/legal. Fla. Seller of Travel Ref. No. ST42114