Back
Private Jet Categories – What's the Difference?
Sep 17, 2021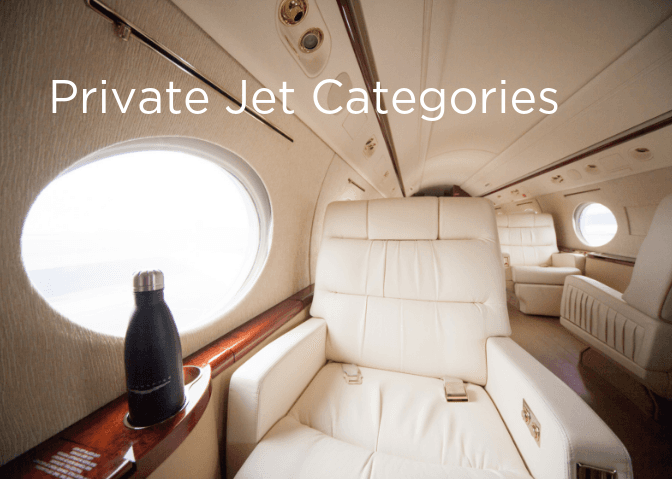 When it comes to flying on a private jet, it is far from "one size fits all." In fact, there are four main types or categories of private jet: large cabin, super-mid, mid, and light. Which is best for you depends largely on where you are flying and how often you fly via private jet.
The Types of Private Jets Explained
Large Cabin Jets
Large cabin jets are designed for flyers that tend to fly with large groups of passengers, those who need to fly internationally or coast-to-coast nonstop, or just desire the ultimate in comfort and luxury. Heavy jets have the longest range of all classes of private jet. They can easily carry up to 12 passengers in complete comfort, can achieve speeds of nearly 600mph, and have more than a 5,000-mile range. A heavy jet can fly non-stop from New York to Paris or Los Angeles to Moscow. The most well-known private jets in this category are the Gulfstream G450 and Gulfstream GIV.
Super Midsize Jets
This is a very popular class of private jet. Super-mids are ideal for intermediate to large groups of passengers. They have been designed to be a very fast and cost-effective way to fly between routes in the 3,500 – 4,000-mile range. This makes them ideal for flights such as from Boston to LA or Seattle to Tampa. Super Midsize jets can accommodate up to nine passengers and are very fast. In fact, the most popular private jet in this category, the Cessna Citation X, is known as the fastest airplane in the world for civilian use.
Midsize Jets
Midsize jets are designed for smaller groups, usually accommodating about 3 – 5 passengers in comfort. They are somewhat slower than midsize jets, with a top speed of about 530mph. Their range is about 1,300 – 1,500 miles. The most prominent jet in this category is the Hawker 800XP.
Light Jets
Light jets are the typical "executive jet."  Light jets are small and speedy, designed for business travelers who need to do regular "city to city" hops such as New York to D.C. or Boston to Atlanta. They have a range of about 700 – 2,000 miles. The Hawker 400 XP boasts great performance and one of the most spacious cabins in the category
Why Is It So Important to Know the Differences Between the Classes of Private Jets?
It is important for anyone who is a regular traveler on private jets - or thinks they would like to be -  to understand the differences between these categories. Not only so you have a better understanding of your travel needs but mainly because most methods of private air travel lock you into a particular class of jet.
Of course, if you buy a private jet for corporate or personal use, that's it; you are locked into using that particular jet. But did you know that other, more cost-effective methods, such as fractal ownership, also lock you into a single aircraft? That is all well and good if a large cabin jet suits all of your travel needs, but what about times when you may not need one?  
Only the XO mobile app allows you to book exactly the kind of jet you want or need every time you fly!
XO is changing everything that even the most experienced traveler thinks they know about booking and flying on a private jet.
We are creating a better way to fly private, one that provides the private flyer with guaranteed availability of flights at market-friendly prices that are often less than any other way to book or fly privately, such as private charter or fractional jet ownership.
Our on-demand solution has completely digitized the private aviation experience and provides guaranteed availability on anything from a full private charter to a single shared seat on an existing flight, -- on any available class of jet -- all at competitive, market-favorable prices.
Our Signature/Business Membership is the perfect plan for businesses or groups that want the highest tier of benefits with the flexibility to fly any class of jet, and the ability to fly unaccompanied non-members at private jet membership rates.
It is truly a revolution in private aviation.
If you would like more information about this post, or any of our programs, please feel free to contact our team at  954-315-0022.
XO may offer a number of programs, including whole aircraft charter, for which XO will act solely as your agent in arranging the flight, and Public Charters, for which XO will act as principal in buying and reselling the air transportation. XO does not own or operate any aircraft. All flights are performed by FAA-licensed and DOT-registered air carriers.