Back
Fractional jet ownership
Aug 30, 2023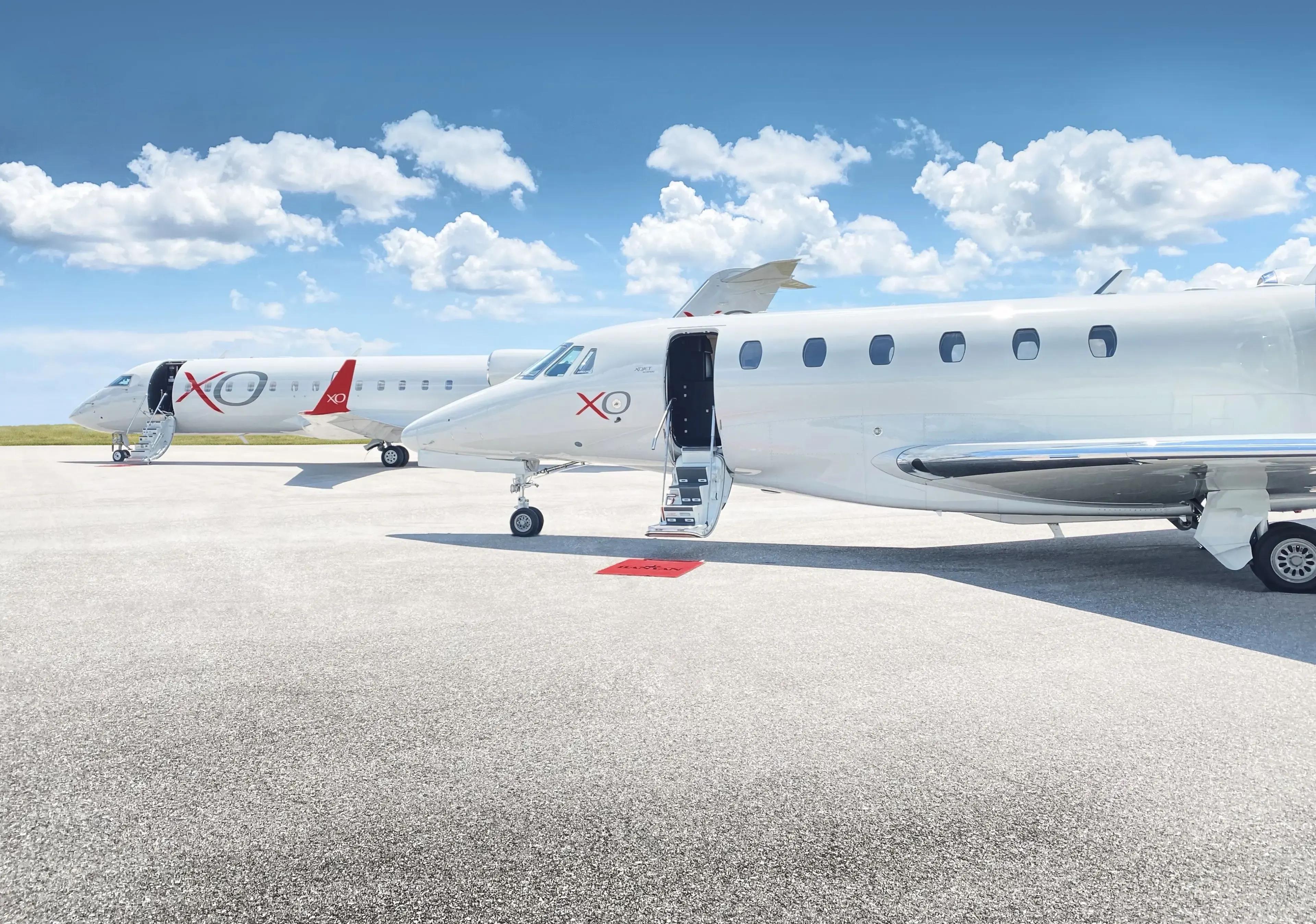 With hundreds of private aviation providers, it can be difficult to navigate the industry. Fractional jet ownership is an option for some private flyers because it increases accessibility to a specific private aircraft or one in the same cabin class. However, XO provides members and clients with access to 2,400+ safety-vetted aircraft spanning all cabin classes, making XO different from fractional private jet ownership programs.  
In this piece, we highlight the many ways in which XO serves our flying community throughout the entire private flying experience – differentiating XO from fractional private jet ownership models. 
XO is distinguished by principles that underpin our entire model – efficiency, accessibility, and transparency. In contrast, the broader market is layered with complexities, many of which confuse rather than educate and advise. 
Please contact our team today if you're interested in chartering a private jet through XO.  
What is private jet fractional ownership?
Fractional private aircraft ownership is a popular alternative for those who want to enjoy the luxury and convenience of private jet ownership without full maintenance and financial obligation. 
Multiple individuals share the costs and usage of a private jet, giving them partial ownership of the aircraft. Each owner receives an allotted number of flight hours per year for the jet. 
What are the benefits of fractional jet ownership?
Fractional jet ownership programs are options for businesses and individuals who frequently fly but are looking for a lower-maintenance flight option than full jet ownership. Here are the primary benefits: 
Flexible availability.
With fractional jet programs, you can have your private aircraft ready a few hours before departure. You can customize your travel itinerary to fit your unique schedule, whether you need to travel on short notice or make changes to your destination mid-flight. 
More depreciation deductions.
Fractional jet ownership can offer you depreciation deductions that are not available when chartering a private flight. If you are using your private jet for business, you may also utilize these depreciation deductions to access tax benefits. 
Personalized investment opportunities.
The level of personalized investment opportunities that you get from fractional ownership means that you reap the benefits of private air travel without the higher financial burden of purchasing wholesale. You can customize your jet share program to purchase more flight hours throughout the year and claim unused hours. 
Privacy.
Fractional jet ownership offers privacy. You can decide exactly who travels with you and tailor your schedules accordingly. 
What are the disadvantages of a private jet fractional ownership?
While it can be a great alternative for some frequent flyers, there are some disadvantages to fractional private jet ownership that you should know about: 
High cost.
Even with split costs, the price of a private aircraft can still add up. Your upfront costs are initially reduced with a fractional jet ownership agreement, but the ongoing maintenance, insurance, hangar, and repair fees can still be expensive. Customers are also locked in at fixed hourly rates, and many hidden fees are often tucked into complex contracts. By the time buyers realize the actual cost, they are already fully committed. 
Limited aircraft.
When you own an aircraft, you are limited to using that same type of plane, even if your preferences change over time. When booking through XO, you are able to access over 2,400 aircraft worldwide, covering all cabin classes. 
Less availability.
Sharing your aircraft with other owners means that you only have access to a fraction of the private aviation experience. You only have your private jet for a certain number of hours per year, so you might not be able to use it on demand. During the summer months and holidays, you're likely to find that your plans may clash with those of other owners. 
Lower value over time.
Another pitfall of fractional private jet ownership is that your aircraft will depreciate over time. This means that if you later choose to sell your share, you are unlikely to recover your investment. Many who bought into fractional ownership plans before the COVID-19 pandemic have now found themselves stuck with an inflexible, time-constrained investment. 
How much does fractional jet ownership cost?
While fractional private jet ownership is a cost-effective option for many flyers, there are still some expenses that you'll need to cover. Some fractional jet ownership costs include: 
Acquisition costs.
An acquisition cost, or capital fee, is the upfront fee that you pay to determine the size of your share in the jet and the type of aircraft that you purchase. 
Monthly maintenance fee.
You will need to cover your share of the management fees. These typically include expenses relating to insurance, pilot training, hangar space, and administrative costs.  
Occupied hour fee.
This fee covers costs for any personnel and services featured on the flight including crew wages, fuel, maintenance, and inflight catering. These costs will vary depending on the length of your trip and the requirements for each flight. 
What are the alternatives to private jet fractional ownership?
If fractional private jet ownership doesn't sound right for you, you will find that XO may be the perfect alternative for your private charter needs. Easily view and choose a private charter from a global network of more than 2,400 aircraft across all cabin classes or select individual seats on Shared Flights. Dynamic pricing is immediately visible for the dates you choose to fly. You will not be locked into rigid plans with non-refundable upfront capital commitments and ongoing management fees. Use the innovative XO mobile app at any time to check flight options and pricing across a range of aircraft on any global route. 
Unlike traditional fractional ownership, XO Membership offers deposit refundability. Our on demand booking capabilities allow flyers to instantly book private charters and individual seats on private jets. XO Aviation Advisors are available day and night to offer consistent, personalized service. 
XO is part of Vista — the world's first private aviation ecosystem, integrating a unique portfolio of companies offering asset free solutions to cover all key aspects of business aviation. Members and clients have access to the Vista Members' fleet of 360+ aircraft and the safety-vetted XO alliance fleet of 2,100+ private aircraft, covering the full spectrum of cabin classes, including the Citation Ultra, Challenger 300, and Gulfstream GIV-SP. 
Book your private charter flight through XO today.
XO is dedicated to replacing the complexity and confusion of private aviation with refreshing clarity. Our platform is ideal for most individuals and businesses who are looking for a simple, efficient way to make private aviation work for them. 
Global access is essential, and XO provides access to flights to 187 countries, representing 96% of the world. You may also consider the rewards and benefits offered with membership options. XO Memberships are the only private aviation memberships that deliver a solution to book private flights and seats instantly. They offer up to 4% loyalty credit with every flight and have refundable low-commitment deposits.  
To charter flights through XO or to learn more about the benefits of becoming an XO Member, please contact our team: 
Schedule A Call With Our US Team
Schedule A Call With Our EU Team
Schedule A Call With Our MENA Team
Note: This blog was updated as of 8/30/2023. 
These references and links are being provided as a convenience and for informational purposes only and do not constitute an endorsement or an approval by XO of any product, process or service, or its producer or provider. XO Global LLC is not a direct air carrier and does not operate any aircraft. All flights will be operated by properly licensed US or foreign air carriers. All services are subject to the terms and conditions available at flyxo.com/legal/. Fla. Seller of Travel Ref. No. ST42114.