Back
XO's Destination Diaries: Hotel Esencia
Nov 16, 2021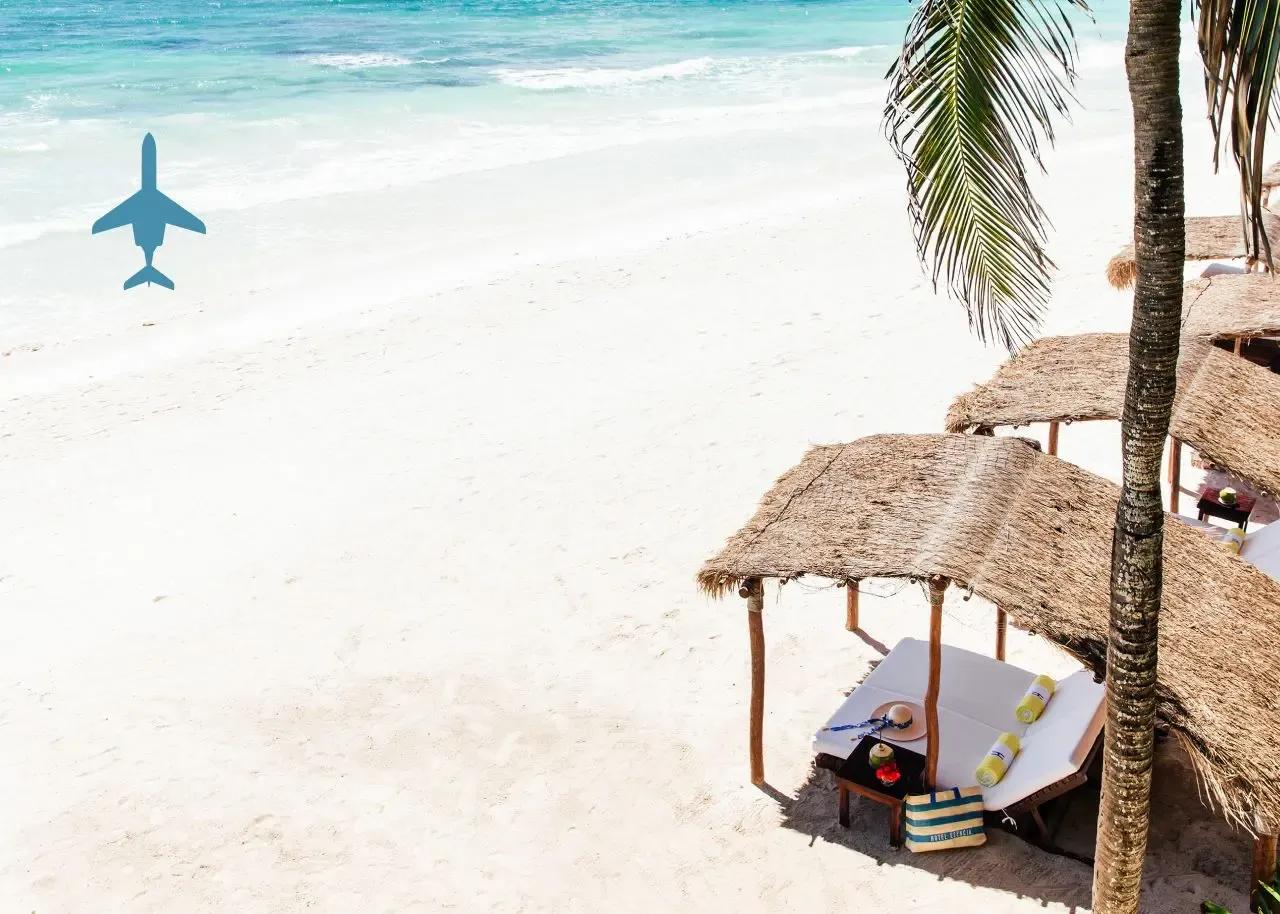 Are you finding, like we are, that even the highest-end luxury resorts lack personality and individualism and suffer from a certain repetitive sameness? At XO, we are driven to find hospitality partners who have a distinctive point-of-view on creating a luxury experience from the ground up.  
Hotel Esencia in Tulum has done just that, starting with a property originally built as the private hideaway of an Italian duchess, Rosa de Ferrari. It is now a private, 50-acre jewel (or gem, choose your metaphor of preciousness) situated on what is considered the most stunning beach on Mexico's Caribbean coast. And it flourishes under the loving and attentive ownership of American entrepreneur Kevin Wendle.  
Kevin has carefully referenced some of his boldfaced names who have stayed at the Esencia by saying, "We've been lucky to have been selected by some of the best-known people in the world for their vacation, however out of respect for their privacy, I would refer you to just a few of those who've posted their visit on social media. Bella Hadid, Gisele Bündchen, and Kate Moss have shot Vogue covers here."
For insight into this special place, we spent some time Zooming away with Sean Murphy, the General Manager. Sean spent eight years at The Ritz-Carlton, Laguna Niguel, and in this interview, we will gain some insights into what he found most alluring about Hotel Esencia.
XO: I know it's difficult, but how would you describe the unique nature of Hotel Esencia?
Sean: I always say that Hotel Esencia is both the easiest and the most difficult place to describe. Our suites and our beach are breathtaking; however, there is also a certain character that the property has. In order to describe it properly, I need to highlight the owner and his story. 
Do you know anything about Kevin Wendle or what he brought to the property.
XO: I do, but our readers don't.
Sean:  Kevin began his career in the television business and was fortunate to be one of the founders of the original Fox Entertainment Network way before Fox launched a news channel.  He was involved in the development or personally produced many popular programs of the '80s and '90s, including "The Fresh Prince of Bel-Air," "21 Jump Street," "The Simpsons," "Beverly Hills 90210," and so many more.  Along the way, early in his career, he really enjoyed buying and flipping homes to make some extra money on the side.  He also co-founded one of the first internet media companies, CNET, back in the '90s. That success provided him with the funds necessary to create much larger and more luxurious homes - larger and certainly more numerous than he needed - so for fun, he began renting them out complete with butlers, chefs, maids, etc.  And one of his friends said that he really ought to be in the ultra-luxury hotel business. Therefore, he went searching for a property and discovered the perfect canvas to pursue his new vision in The Riviera Maya.
XO: I've read that he has a very personal definition of hospitality.
Sean: Absolutely. Hotel Esencia is actually Kevin's family home in Mexico, and his philosophy is that our guests should feel they are guests at his house. We have no room numbers, our guests never have to sign checks at the table, and there's no front desk where they have to physically wait in line to check in with a credit card.
XO: Kevin has said that "great service is more important than ever, not the robotic, scripted service you find in so many 'luxury' hotel chains, but sincere service provided by people who really love taking care of people."  
Sean: That is certainly aligned with the mission of our brand. The short-winded way to describe it is world-class hospitality, but with heart & authenticity.
XO: Is it true that you have more than an acre for each guest?
Sean: We have 48 keys and 60 acres of land. Everything is vastly spread out and peaceful, almost as if you are on a private island. There are both suites/villas on the beach and suites/villas that face the interior jungle. Our Master Jungle Suite has two separate bedrooms and a large private pool, which is one of our newest additions. One of my favorite guest moments is when the turtles lay their eggs on our beach every year, and we involve our guests in this memorable experience as they watch them return to the sea once hatched.
XO: Your idea of luxury is dynamic, right?
Sean: Yes, that's core to our values, and we're constantly evolving the property. Half of the rooms are brand new; there's a US Open-quality tennis court, helicopter landing pad, and a world-class sushi restaurant opening next month called Taiyo. We are also fortunate to have brought Beefbar to Hotel Esencia from their concept in Monaco, adding to their already magnificent global presence.
XO: I've read that there are some amazing mid-century antiques by the likes of Pierre Jeanneret, Charlotte Perriand, and Pierre Guariche. Is this a passion project for Kevin?
Sean: Yes, it was conceptualized originally as a personal passion project for Kevin to host his friends and family. We have been blessed that it turned into such a thriving business over the years.
XO: Anything you'd like to say to wrap this up, maybe something about the French project?
Sean: We just bought our second property, this time in France. We are excited about the recent purchase of our second property, located in France's Loire Valley. Its name is Château de Curzay, an 18th-century chateau in Nouvelle-Aquitaine. It will be extraordinary once completely re-imagined and aligned with our brand, I assure you.

To learn more about this post, our Membership Programs, or some of our top flight routes such as Los Angeles to New York, New York to Aspen, or Boston to New York, please feel free to contact our team:
Schedule A Call With Our US Team
Schedule A Call With Our EU Team
XO Global LLC is not a direct air carrier and does not operate any aircraft. All flights will be operated by properly licensed US or foreign air carriers. Membership is subject to the terms of the applicable Access Membership Agreement.