Back
Have You Considered a Private Jet for Your Next Family Vacation?
Sep 17, 2021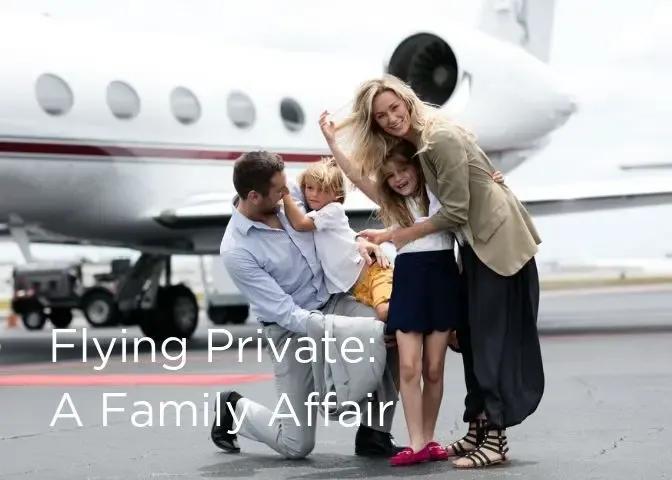 Anyone who as ever traveled with kids knows it's no picnic. If you want to avoid all of the aggravations of commercial air travel, maybe you should consider traveling by private jet for your next family vacation.
If you have already flown private for business, then you know exactly what a hassle-free experience it can be.  Why not leverage that same ease and luxury when you are traveling for your next family getaway?
Here are five good reasons for flying private with your family.
Reason 1 – You Are in Control
On a private jet you get to choose the exact dates and times when you want to leave and return. When you fly commercial, you are a slave to fixed itineraries and you have to leave and return only when the airlines says you can.
Reason 2 – Get Closer to Your Destination
Let's face it, if you are considering flying private, you probably are not traveling to a routine destination. What could be worse than going through all the hassles of a brutal commercial flight, and then having to first get in a car to drive another few hours to your exotic villa or ski chalet? With their ability to land at any major airport, as well as smaller executive airports, private jets can often get you much closer to your ultimate destination.
Reason 3 – Room, Room, and More Room
Forget the crunch of elbows and that tray table in your lap from the seat in front of you. On a private jet you have the room to stretch out and relax, in many cases even more so than in first or business class on commercial flights.
Reason 4 – Expect More
Expect to be treated like the VIP you are when flying private. When it comes to luxury and red-carpet service, the sky is literally the limit on a private jet. Order a black car through Concierge and you'll be picked up right on the tarmac as soon as you land to make sure you arrive at your final destination in comfort.
Reason 5 – XO is a Community in the Sky
True we are talking about a private jet vacation, but, because of XO's unique business model, you and your family may not be the only ones on your flight. Our shared flight options not only make private jet travel more accessible when flying on our shared flights, but you also get to network with like-minded individuals, dine on catering and sip champagne while you sit back (all the way back) and enjoy the flight.
Relax Even Before Your Next Vacation Starts
If this all sounds good to you, taking a private jet for your next vacation may just be the way to kick off the most relaxing and epic family adventure ever.
There is one more reason to consider a private jet for you next vacation, and it may very well be the best reason of all. That's because, thanks to our new routes and new features such as crowdfunded flights, XO makes private jet travel easier and more accessible than ever before.
Only XO can provide you with guaranteed access to private jet flights, whenever you want to go and wherever you want to go, at market-driven prices.
Check out the available flights on our app or at flyxo.com, or contact a member of our team and see how we take all of the hassles out of air travel.
P.S. Don't forget to ask about our current special on a Family Membership that could save you thousands.
If you would like more information about this post or any of our programs, please feel free to contact our team at 954-315-0022.
XO may offer a number of programs, including whole aircraft charter, for which XO will act solely as your agent in arranging the flight, and Public Charters, for which XO will act as principal in buying and reselling the air transportation. XO does not own or operate any aircraft. All flights are performed by FAA-licensed and DOT-registered air carriers.