Back
Catering Food on Private Flights
Sep 17, 2021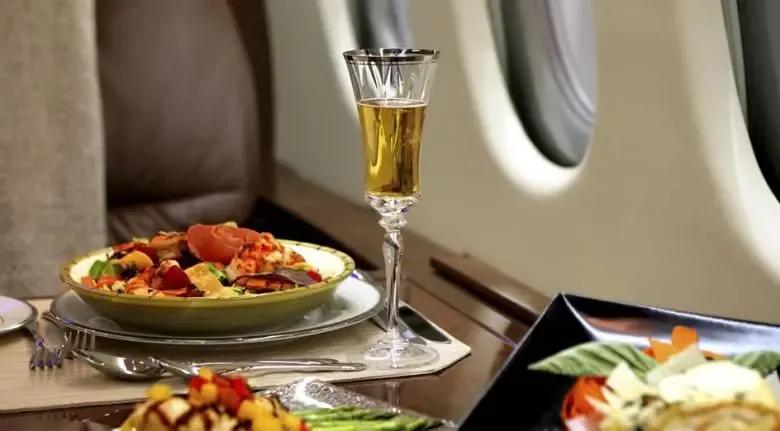 One of the many advantages of chartering a private flight is catering service. There are a wide variety of in-flight catering options available, so to be certain you select the best option for you and your passengers, there are several factors to be considered.
The length of the flight is a primary consideration. Shorter flights allow just enough time for a snack or a pre-plated light meal. Longer flights, especially international travel, provide ample time for multiple course meals to be served.
Flight departure and arrival times also will impact your in-flight catering choices. Generally, breakfast foods, such as bagels, yogurts and fresh fruit will be served during a morning flight. On early afternoon flights, lighter lunch options, like salads, sandwiches, fresh vegetables and cheese trays, are preferable. Late afternoon and early evening flights are ideal for serving full dinner fare, including beverage, appetizer, bread, entrée and dessert.
The purposes of the trip and passenger objectives are other key factors to consider when making in-flight catering arrangements. Business passengers may want to work as they travel, or they may be attending a meeting after the flight, in which case they will want to stay alert. Providing high protein meals helps passengers stay focused. If the flight will be landing late in the evening or if passengers will be flying overnight, providing foods high in carbohydrates, such as pasta or muffins, will help passengers relax and prepare to sleep.
Before ordering in-flight catering service, confirm any passenger food allergies and dietary restrictions, such as vegan, vegetarian, gluten free, peanut allergy, or lactose intolerance. Religious affiliations may require some passengers to eat only kosher or halal meals. If you are unsure, it's best to err on the side of caution and order a couple of vegetarian options to be safe.
Any other special requests, such as the celebration of a birthday, anniversary or a holiday during the flight, should be made when arranging for in-flight catering. Most catering services will happily accommodate special requests, and will even provide occasion specific additional items, such as cake and ice cream, balloons, flowers, champagne, or other alcoholic beverages upon request.
Finally, if you will be taking pets on your private flight, be sure to confirm the number and size of the animals traveling with your party. Most catering services will provide in-flight meals and dishes for your pets, as well, provided they have sufficient notice.