Back
Bring your pets on private jets
Sep 17, 2021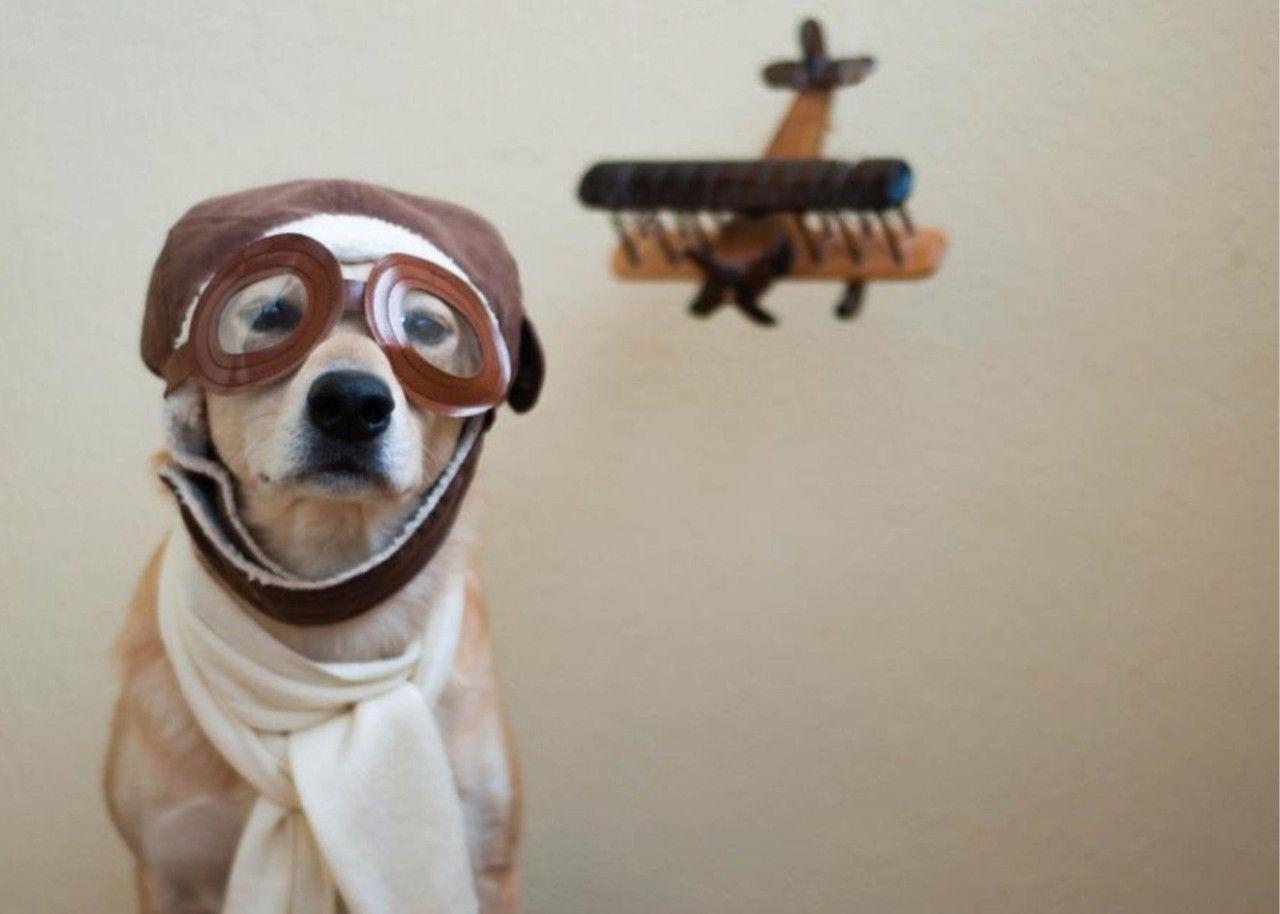 At XO, we make it PAW-sible to take flight with your pets. We are pleased to welcome you and your four-legged family members aboard our group-owned fleet. We invite you to join the many XO Members who bring their beloved pets on private jets.
Consistent with XO's commitment to elevated service, our team personalizes every aspect of your flight to ensure peace of mind and convenience for you and your pets. During the booking process, a Client Services Specialist will request the animal's breed, weight, and name in order to make the appropriate accommodations. You can even order catering for your pet. Bon a-pet-treat!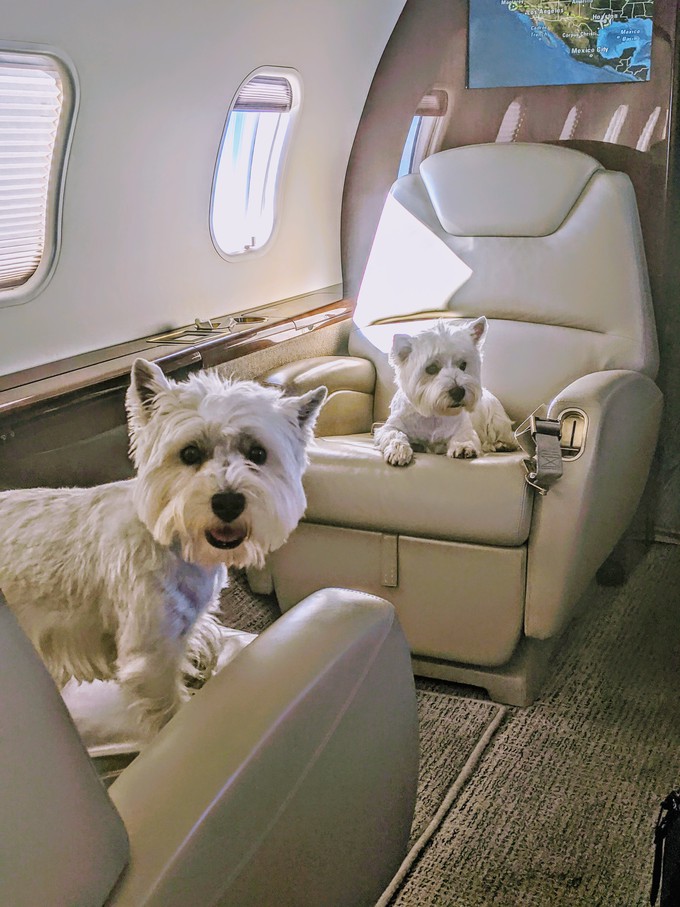 For private charters on our group-owned fleet operated by XOJET Aviation, your furry flyer is welcome to check out the view ‒ we bet it's better than the car window. During take-off and landing, all large animals must occupy a seat and be secured with a body leash equipped with a quick disconnect device. Cats can cozy up in their kennels to enjoy the purr-fection of private flight. To ensure the safety of everyone onboard, animals must be furr-iendly towards fellow travelers and cannot block access to the aisles or emergency exits.
If you are buying a seat on one of our shared flights, only registered service or emotional support animals may travel. To register your service or emotional support animal, just be sure to contact the Client Services Team to provide the required details and documentation at least 48 hours prior to departure. Per safety regulations, travelers may be advised that it is necessary to purchase an additional seat for the animal.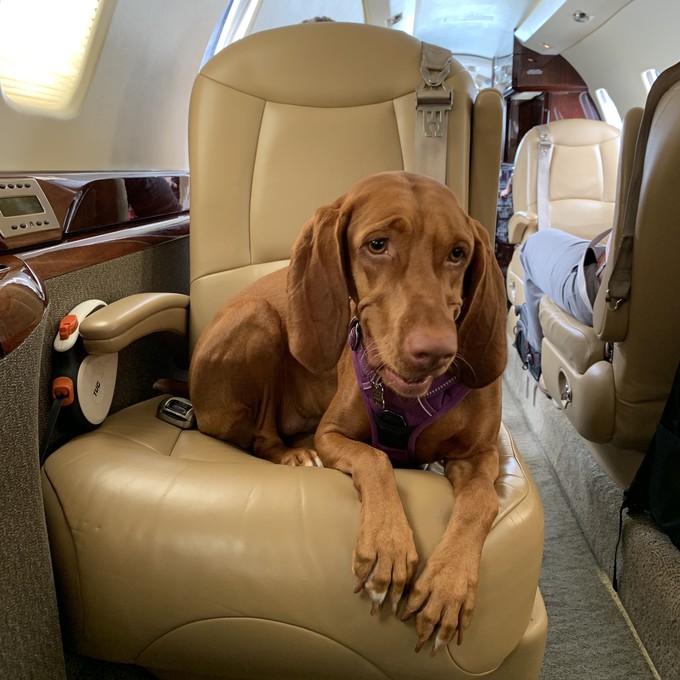 Just last week, first-time XO client Max flew from Miami to Boston on a private jet charter with his extended family and pet Vizsla. In his words: "XO made it so easy to fly with Coco. It was much better than putting her in cargo or dealing with all the distractions posed by large airports and crowded airplanes. Coco was incredibly calm and seemed to enjoy the experience just as much as we did! I think we spoiled her."
We understand that some flyers may have allergies or aren't the biggest canine or feline fans. As part of XO's unwavering commitment to travelers' health and safety, before and after each flight, high-grade multi-purpose cleaner, and disinfectant wipes are used to thoroughly wipe down aircraft interiors ‒ including lavatories, tray tables, window shades, armrests, and all touch surfaces. Likewise, antimicrobial barrier treatment ClearCabin and surface disinfectant Bacoban are regularly applied to aircraft interiors to provide long-term protection from bacteria, viruses, mold, fungi, and other microorganisms.
So, throw us a bone and take a paws. Whether you bark, meow, or speak ‒ we would love to hear from you and welcome you aboard! To learn more about XO's Pet Policy, schedule a call with one of our Aviation Advisors.
Terms & Conditions:
Additional details regarding the transportation of pets and animals can be found in XO Charter Flight Terms & Conditions.
XO reserves the right to charge travelers for an additional seat if the service animal presents a safety hazard as dictated by the aircraft operator.
Travel is restricted for certain dog breeds, including Pitbull, Rottweiler, Doberman Pinscher, German Shepherd, Chow Chow, Husky, Great Dane, Malamute, Presa Canario, Akita, Mastiff, and Wolf hybrids.  
 
To learn more about this post, our private jet membership programs, or some of our top flight routes such as New York to Chicago, London to Mocsow, or South Florida to Atlanta, please feel free to contact our team:
Schedule A Call With Our US Team
Schedule A Call With Our EU Team
Schedule A Call With Our MENA Team
These references and links are being provided as a convenience and for informational purposes only and do not constitute an endorsement or an approval by XO of any product, process or service, or its producer or provider. XO Global LLC is not a direct air carrier and does not operate any aircraft. All flights will be operated by properly licensed US or foreign air carriers. All services are subject to the terms and conditions available at flyxo.com/legal/. Fla. Seller of Travel Ref. No. ST42114.