Back
6 Exclusive Winery Experiences in Napa and Sonoma
Sep 17, 2021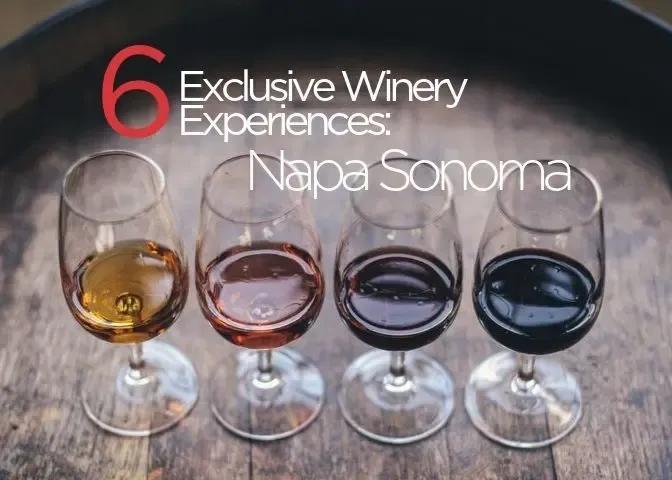 By Katie McElveen
The California wine-growing regions of Napa and Sonoma seem tailor-made for those arriving by private jet: FBOs in Napa and Santa Rosa are located just minutes from the vineyards, making the time from touchdown to tasting quick and hassle-free.
Even better, vintners have refined the tasting experience to include a host of luxury options such as guided vineyard walks, multi-course pairings, and gallery tours, all fueled by some of the best wines in the world.
Hess Collection: Hess Experience Tour and Wine Dinner
We still have a few openings for our reservation-only Estate Experiences this weekend, or pop in to wander the Hess Art Museum where admission is always complimentary and no appointment is needed. Click the link in our profile to reserve an experiences. ⁠ ⁠ Photo: @mirrorlessinSF
A post shared by The Hess Collection Winery (@hesscollection) on Aug 31, 2019 at 10:00am PDT
A visit to the Hess Collection in Mt. Veeder is more than just a chance to taste wine. Donald Hess's museum-worthy collection of modern art—think Frank Stella, Robert Rauschenberg, and Morris Lewis, among others—is also on display, free to all. Book the Hess Experience and your evening begins wine, light bites, and a docent-led tour of the collection, followed by a three-course wine-paired dinner featuring Hess's top-level Icon wines and chef Chad Hendrickson's farm-to-table creations. The event begins at 6pm and is $215 per person.
Joseph Phelps: Bountiful Table
Offered on Fridays and Saturdays at noon, the Bountiful Table experience begins with wine and appetizers on a terrace overlooking the estate's famed vineyards. Guests can savor panoramic views before moving into the dining room for a five-course menu that might include scallop crudo with shiso, local duck scented with cardamom, and beef tenderloin with shiitake mushrooms. One of the few wineries to use only estate-grown fruit, Joseph Phelps is best known for Insignia, a Cabernet-dominant Bordeaux-style blend. The 2016 vintage, which is served at each Bountiful Table tasting, is opulent and powerful, but with a fresh, lingering finish. The three-hour tasting is $275 per person.
Jordan Vineyard & Winery: Chateau Block Cabernet Tasting
Cabernet with a view? Don't mind if we do. #WineWednesday . 🍷 @jordanwinery 🥂 Uncorking life in Sonoma wine country along with #food, #wine, and #travel tips. . #winelover #winelovers #wine #wineoclock #sonoma #wineporn #winelife #winelifestyle #winestagram #wineoftheday #winetasting #winepassion #winetime #cabernetsauvignon #cabernet #chardonnay #winepour #winepouring #wineglass #redwine #winery #winecountry #foodandwine #chateaublocktasting . 📸: @vinstagrape
A post shared by Jordan Winery (@jordanwinery) on Jun 26, 2019 at 5:32pm PDT
In 2018, while standing atop a hill overlooking his just-planted six-acre vineyard, John Jordan was so mesmerized by the view of the Alexander Valley and its surrounding mountains that he decided to create a tasting experience that would allow winery guests to enjoy it as well. The new Cabernet tasting is an outdoor experience featuring three vintages of Jordan Cabernet Sauvignon paired with charcuterie from Journeyman Meat Co., including two custom recipes created in collaboration with Jordan chef Todd Knoll. "We've always wanted to take guests into the vineyard without getting into a car," Jordan says. "This new vineyard not only holds great promise for future vintages of Jordan Cabernet Sauvignon, but it allows us to offer a memorable experience in less than two hours." The tasting is held on weekends through October and is $75 per person.

jordanwinery.com
Karen MacNeil: Curated Tours
Wine Bible author and wine educator Karen MacNeil is legendary among oenophiles for her enthusiasm, encyclopedic knowledge, and engaging delivery. Her private wine tours incorporate your specific tastes or interests into one-of-a-kind journeys into wine that might include an after-dark tasting while stargazing with an astronomer, or the chance to sample something from the owner's private cellar. MacNeil also matches wineries to each client's interests. "We look for wineries that share your passion, be it food, architecture, or gardening," says MacNeil. "Those points of commonality enhance the experience." To ensure an exclusive tasting that clients could not replicate on their own, MacNeil takes guests to wineries that don't otherwise open their doors to the public. Experiences are led by MacNeil and the winery owner or principal. Tours are priced individually.
Ram's Gate: The Chef's Table
Course 4 of our Winter Pairings: 2015 Rams Gate Estate 'Vent de Colline' paired with Pork Tenderloin, Confit Egg Yolk, Smoked Soubise, Demi & Feta. #seasonalpairings #drinkRG 🍷 ⠀⠀⠀⠀⠀⠀⠀⠀⠀⠀⠀⠀ ⠀⠀⠀⠀⠀⠀⠀⠀⠀⠀⠀⠀⠀⠀⠀⠀⠀⠀⠀⠀⠀⠀⠀⠀⠀⠀⠀⠀⠀⠀ #foodandwine #ramsgatewinery #redblend #winetasting #winepairing #sonomavalley #carneros #sonomawine #winelovers #ramsgate #sanfrancisco #visitsonoma #visitsonomavalley #vineyards #wheretovisit #wheretonext #foodandwine #weekendgetaway #winecountry
A post shared by Ram's Gate Winery (@ramsgatewinery) on Mar 2, 2019 at 1:12pm PST
The Chef's Table experience can almost be considered a reverse tasting: Instead of the sommeliers finding wine to pair with each course, the chefs base their dishes—pan-seared halibut with pickled fennel and apricot, perhaps, or kanpachi crudo with grilled oranges—on the flavors of the wine. Adding to the tasting's appeal is its location, a private kitchen where guests sit around a long marble table with the chef and a member of the winemaking team. Although the winery is known for its remarkable view all the way to San Pablo Bay, guests who'd like a better look can elevate their experience (quite literally) with a helicopter tour of this end of the Sonoma Valley. The Chef's Table is offered at noon Thursday through Monday and is $250 per person; a shorter tasting with the helicopter tour is $460 per person.
Vérité: Private Tastings
Growing up in France, where drinking long-aged wine is common, Vérité vigneron Pierre Seillan and his wife Monique (the winery's Vice President of Communications) are quite familiar with the changes that occur in the bottle after 20, 30, or 40 years. When the couple moved to California, they discovered that many Americans had never had a chance to compare older vintages with their younger counterparts, particularly from California wines. Working with partner Jess Jackson, the couple decided to change that by holding back a specific quantity of wine from each of Vérité's vintages with the sole purpose of saving it for later release. For visitors, that means the chance to participate in vertical tastings covering almost 20 years. Multi-course lunches and dinners based on each wine can also be created. "We curate tastings to the client's tastes and interests," says Monique. "Our goal is to create experiences that are unique and memorable." Experiences are priced individually.
If you would like more information about this post, or any of our programs, please feel free to contact our team at +1-888-80-FLY-XO or schedule a call.
XO is a foreign air charter broker. It is not a direct air carrier and does not operate any aircraft. All flights will be operated by properly licensed air carriers or foreign air carriers. All services are subject to the terms and conditions available at flyxo.com/legal. Fla. Seller of Travel Ref. No. ST42114